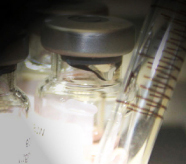 Our standard solutions integrate seamlessly with the V:KIT software. Essential information regarding their traceability Is uploaded into V:KIT software by simply entering the batch number. HPLC solutions are provided in 5ml sealed glass vials and GC solutions are supplied in 2ml sealed glass ampoules each individually labelled with batch number and expiry date.
Traceability
A Certificate of Analysis is provided with each batch of solutions.
Data such as gravimetric, spectroscopic or chromatographic is retained within an extensive Batch Manufacturing Record demonstrating the integrity of the standards, their raw materials and the equipement used in the manufacturing process. ISO Guide 34 guidelines are followed in the production and certification of these materials.
Expiry Dates
Each solution is guaranteed to have a minimum one-year from date of shipment till expiry. The V:KIT software prevents accidental use of out of date solutions.
Standards available:
VSOL-LC11 HPLC UV Wavelength Accuracy
VSOL-LC23 HPLC UV Response Linearity
VSOL-LC44 HPLC Fluorescence Wavelength Accuracy
VSOL-LC55 HPLC Fluorescence Response Linearity
VSOL-LC33 HPLC Refractive Index Linearity
VSOL-LC77 HPLC Autosampler Precision
VSOL-LC88 HPLC Gradient Accuracy
VSOL-LC99 HPLC Far UV Wavelength Accuracy
VSOL-GC100 GC FID/TCD Response Linearity & Precision
VSOL-GC99 GC Headspace Precision